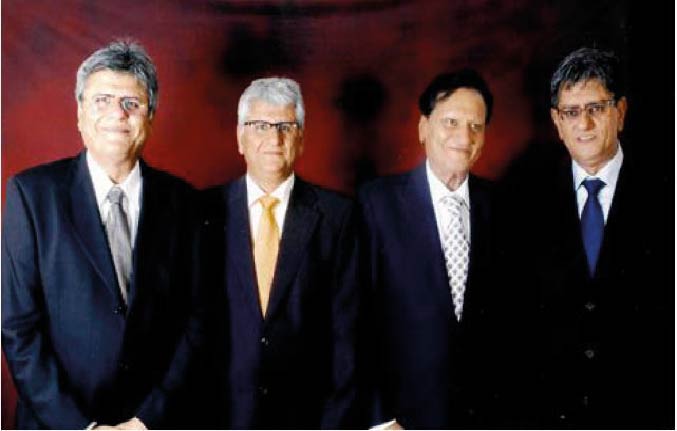 About Us
At Jetha Tulsidas Group, we have built a strong foundation on our retail arm, which has been the cornerstone of our group. Our journey began with shops specializing in Indian wear, recognizing the demand for such attire across the island. As we expanded, we evolved into a comprehensive shop offering not only Indian wear but also western clothing for men and women, accessories, home decorations, and even makeup. Our aim has always been to reach all parts of the island, ensuring affordability and catering to the needs of clients, including those preparing for weddings. Today, we proudly operate 15 shops throughout Mauritius.

In addition to our retail division, we have developed a robust real estate division. We offer a wide range of commercial and residential properties available for rent. Our commercial properties cater to both new businesses and established clients seeking more space to grow. Four prominent pillars of our real estate division are Sunsheel Centre, Jet Court, Crown Court, and Devi Court. These buildings host a diverse mix of tenants, and we prioritize service at the heart of everything we do. More recently, our division has diversified into land development, embarking on projects to offer apartments and exploring commercial developments as well.

Finally, our group encompasses a dynamic Freeport Division. Operating within designated free trade zones, we specialize in providing comprehensive solutions for international trade and logistics. With secure warehousing, bonded storage, customs clearance, and efficient logistics management, we facilitate seamless import, export, and distribution activities. Strategically located near major ports and transportation hubs, our Freeport Division offers businesses a gateway to global markets. We are committed to excellence, reliability, and customer satisfaction, positioning ourselves as a trusted partner in international trade.

At Jetha Tulsidas Group, we strive to create value, provide exceptional service, and foster long-term relationships. Our diverse portfolio and unwavering commitment to meeting the evolving needs of our customers drive us forward.
Join us on our journey of growth and success.

The legacy of Jetha Tulsidas
See our milestones
AJIT TULSIDAS
(CHAIRMAN)
Ajit Tulsidas, a visionary entrepreneur, embarked on his professional journey in 1973 after completing his college education in 1972. With a strong commitment to family values and business excellence, Ajit joined the family business, which, at the time, operated a single shop in Rose Hill.

Today, as the Chairman of the organization and a member of the board of directors, he continues to shape the company's direction and foster its success. He oversees the entire operations and human resources. Drawing upon his extensive experience within freeport and operations he has played a pivotal role in transforming the company from its humble beginnings to a prominent retail presence in Mauritius.

Moreover, Ajit recognized the potential of the free trade zone concept and seized the opportunity to expand the business into the freeport sector. By leveraging his expertise and entrepreneurial spirit, he successfully launched the freeport division of Jetha Tulsidas Group. Through his strategic vision, the freeport business has thrived, providing comprehensive solutions for international trade and logistics.

Jetha Tulsidas Group has grown into a diversified business group, encompassing retail, real estate, and freeport divisions. His leadership and dedication have paved the way for the company's continued growth, ensuring its position as a prominent player in the Mauritian business landscape.
ASHOK TULSIDAS
(CO-CHAIRMAN)
Ashok, an esteemed member of our organization, holds the position of Co-Chairman on the Board of Directors. Having completed his B.Com degree in India, he joined our business in 1975, bringing with him a wealth of knowledge and expertise.

As the head of distribution and supply chain, overseeing the import process for our retail group, Ashok plays a pivotal role in ensuring the smooth and efficient flow of products throughout our operations. With a keen understanding of market trends and consumer demands, he is responsible for overseeing the procurement process, carefully selecting suppliers, and negotiating favourable agreements to maintain a diverse and high-quality product range for our customers.

Ashok is a proud member of the Rotary club of Beau Bassin and is a previous chairman.
Under his expertise, our retail group has experienced remarkable growth and success. His relentless pursuit of operational excellence and unwavering focus on customer satisfaction have been instrumental in driving our business forward.
DINESH TULSIDAS
(MANAGING DIRECTOR)
Dinesh achieved his Bachelor in Management Sciences from the University of Warwick in 2001. After that he went onto further his education and obtained a Masters in Computer Science from Imperial College in London. ​

Dinesh Tulsidas is the MD of Jetha Tulsidas Holding. He has re-engineered the company's 400+ employees and five (5) main departments in Trading (Retailing & Wholesaling), Freeport Operations, Real Estate/ Property Development & Management, Corporate Social Responsibility & Family Trust, Restructuring of the Family Business & Assets.
Under his leadership the company grew from 2 to 18 stores. He sits on the Board of the group and for Jubilee Allianz Insurance (Mauritius) Ltd which is an affiliate to Aga Khan Fund for Economic Development. As one of the youngest MDs in Mauritius, he has also served as a coach and mentor in several clubs such as JCI, Round Table and has recently joined YPO which is global leadership community of extraordinary leaders and chief executives.